DISABILITY SITUATION IN FRANCE
There are 12 million citizens with disabilities or reduced mobility who vote in France. During the presidential election campaign, few candidates focused on the situation of disability… Curiously, it was the extreme candidates (Jean Luc Mélenchon on the far left and Maine le Pen on the far right) who worked the hardest on their copy, led by Nicolas Dupont. Aignan… He was the only one to welcome the arrivals of the March of the Forgotten from Nantes to Paris to alert the candidates and push their rant…
As for Emmanuel Macron, the elected candidate, now President of the Republic, had an evolving program. First of all, the place for handicap was minimal at the start of the campaign and grew over time as it gained market share … to the point of having devoted its first visit after its victory in the first round , at the Garches hospital to visit the handicap pole… Then the six axes devoted to the handicap of his program developed during the period between two rounds. The day of the televised debate which opposed him to Marine Le Pen, then devotes his carte blanche in conclusion to disability. It was also the most humanistic moment of this basely filthy debate, since Marine Le Pen had "insulted" and provoked Emmanuel Macron… thus avoiding substantive subjects. The Carte Blanche put Macron back in a position of strength by raising this subject which surprised his opponent, even if his program was more advanced on this subject.
Since his election Emmanuel Macron has promised to put disability in his priorities. Prime Minister Edouard Philippe made his first two-hour visit, alongside Sophie Cluzel, Minister for Disabilities, to the Maison Partagée de Rungis and declared "one of the priorities" of the five-year term. Prime Minister Edouard Philippe also added "For a long time, and perhaps still for some time, we often approach them through the question of standards, the question of laws, rights".
We have decided to follow step by step the real and pragmatic application of the promises of this new five-year term, as regards the improvement of the situation of disabilities in France.
In the meantime, we present to you the graphic results produced by APF (Association Paralyses de France) and IFOP reflecting the position of the disabled in the face of political
COMPARISON OF 2017 PRESIDENTIAL CANDIDATES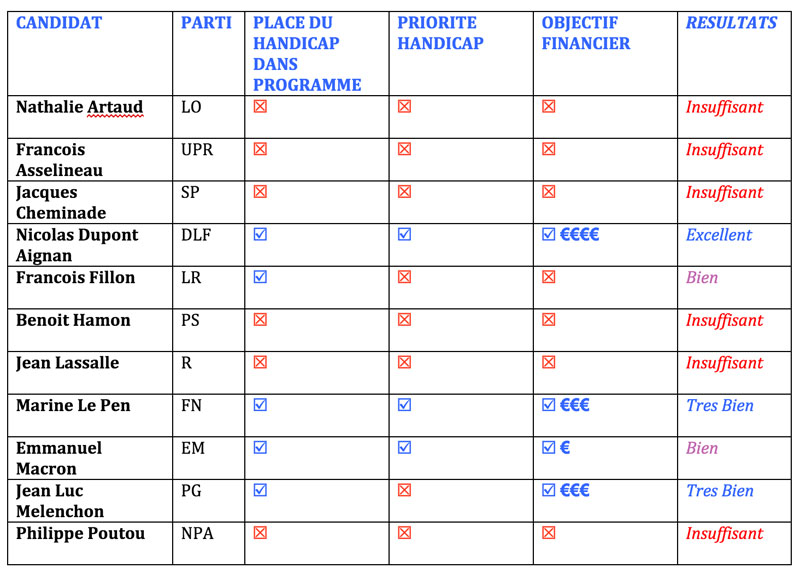 COMPARISON OF POLITICAL PARTIES OF 2017 PRESIDENTIAL CANDIDATES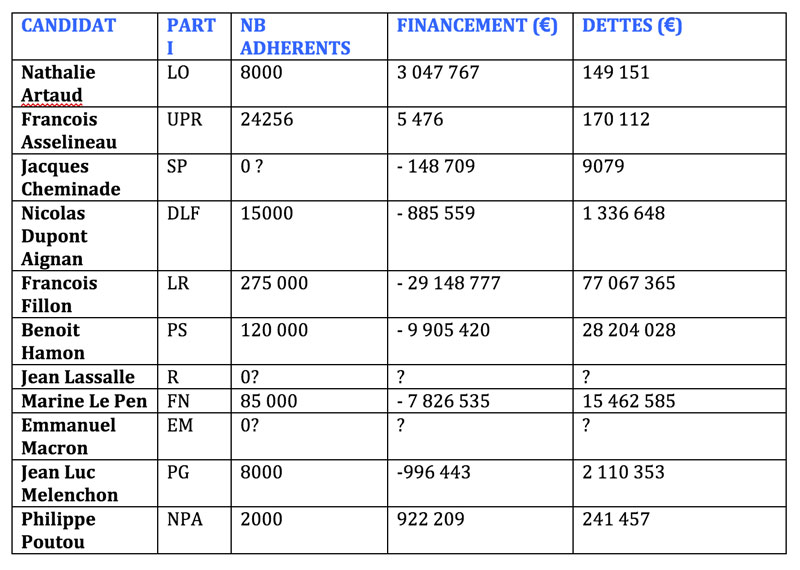 This data was drawn from research related to each candidate's written program (see link below).
No oral statement can or should be taken into consideration by voters. Several people within the same party can express and hold different positions, only the consensus drawn up, written, recorded and accepted by an entire party can be authentic (hence the professions of faith that will be sent to you shortly).
COMPARISON OF 2017 PRESIDENTIAL ELECTION DISABILITY PROGRAMS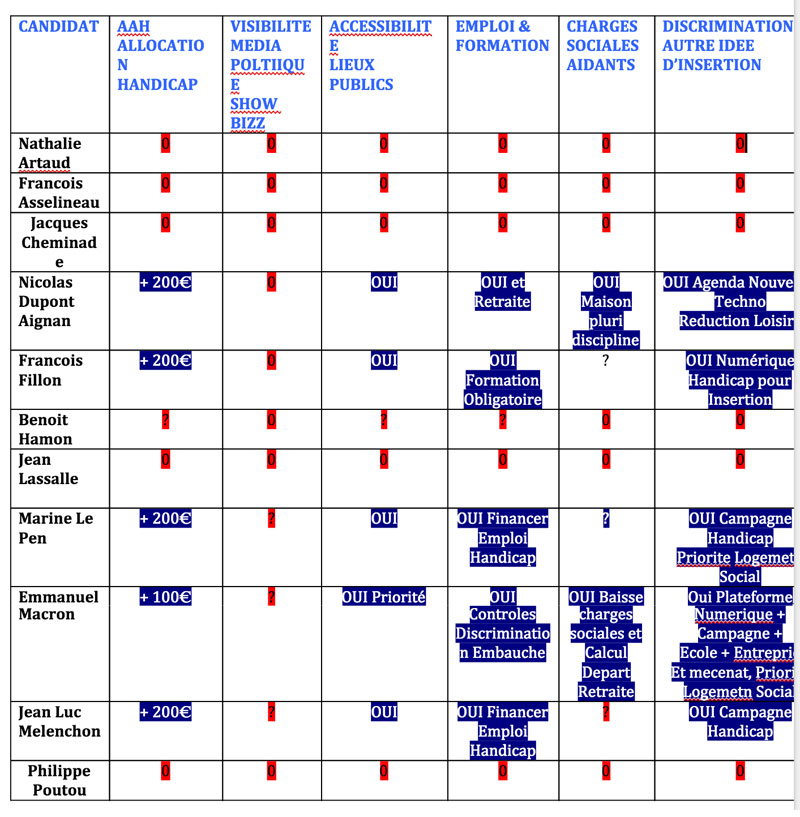 COMPARISON OF THE DISTRIBUTION OF DEMOCRATIC LIFE OF THE 11 CANDIDATES FOR THE 2017 PRESIDENTIAL ELECTION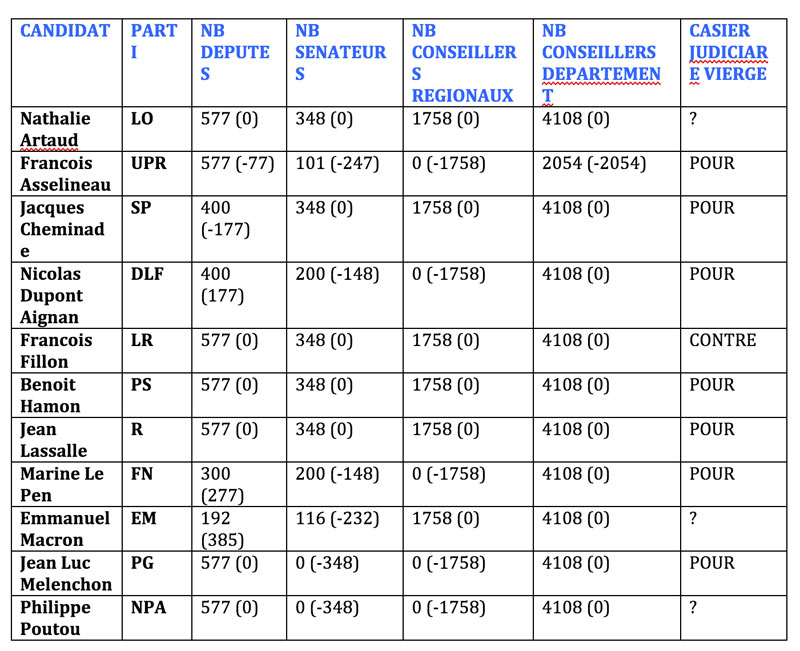 COMPARISON OF 2017 PRESIDENTIAL ELECTION DISABILITY PROGRAMS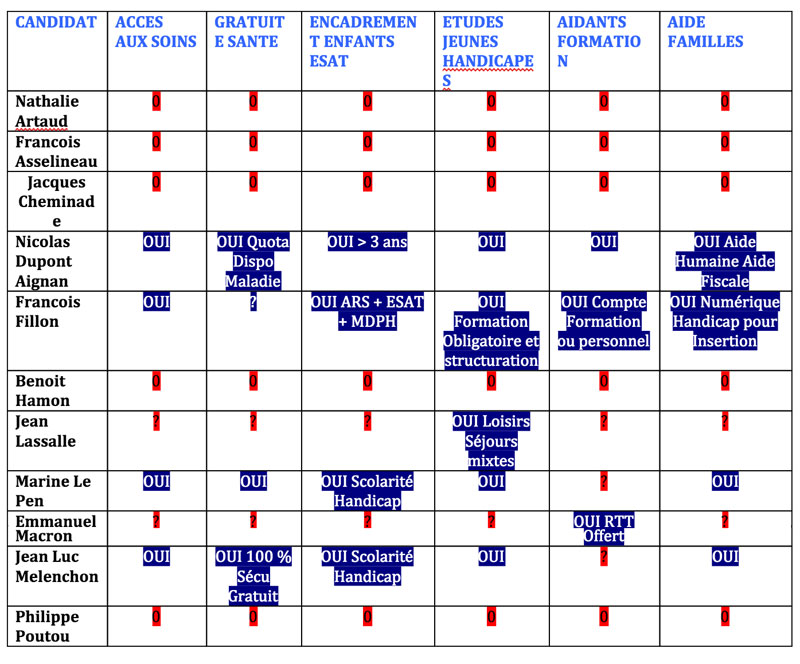 Sources :
IFOP-APF (Paralyses de France)
Compte de parti (cnccfp) (les partis trop jeunes ne s'étant jamais présentés ne sont donc pas renseignés)
Alexa Ranking (rang de consultation des sites internet)
Remember that all of the above legislative measures cannot be guaranteed in the absence of a majority in the assembly.
However, no one can claim to have a majority next June, a priori.
There is therefore no commitment made on these proposals, since the power to apply them remains uncertain. (Non-exhaustive list of legislative proposals)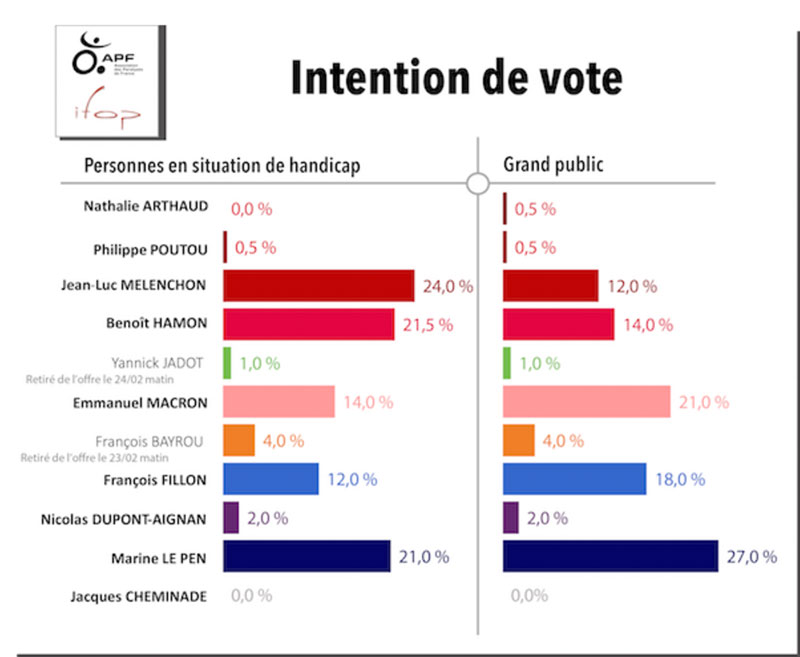 TOTAL COMPARISON OF YES AND NO – SCORINN